Many people are looking for "chemistry" in their love li
ves.
They want someone who stirs up their feelings of admiration, attraction, and desire.
It's like they want to be handed a surprise gift.  A neat little package containing all of the feelings we associate with love, especially the way "true love" and "love at first sight" is conveyed in the movies and songs that define our culture.
Is it any surprise, then, that divorce rates are so high?  Is it any surprise so many people are in serial relationships that last only months or a few years before they renew their search for "better chemistry?"
Love is not chemistry. Love is a choice.
The feelings we associate with love (admiration, desire, possessiveness, generosity, et cetera) are just that; feelings associated with love, especially when choices to love are being reciprocated and the challenges we face are relatively small.   And these feelings are all good.  But they are not love.
Love is decision.  It is a verb.  It is the process of making every day choices that honor a relationship which includes commitments of serving another persons, whether that be a new born child you barely know, a parent you've known all your life, or your fiance' on your wedding day.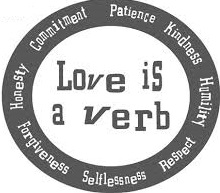 It is the every day decisions to make little or big choices to honor this Read the rest of this entry »
My wife is conflicted.
On one hand, we have two unplanned children whom she dearly loves.
On the other hand, we have two unplanned children who have "derailed" her career plans because she doesn't want to put the youngest in daycare.  She already put off her career for the five oldest, but that was according to her plans.
It's these two late comers which have upset her plans.
So how does she deal with this conflict between love for her children and resentment over the obligations of being a parent?